A pocket chainsaw is an ideal tool to clear fallen trees from a mountain-biking trail or cutting logs for firewood while camping. This handy camping hiking survival gear consists of chainsaw blades up to 40.6 inches in length with two large nylon handles that allow the operator to cut through branches and medium-size trees. The hand saw tool weighs less than half a pound and fits in a small bag so that you can carry it anywhere when hunting, fishing and other do other adventure sports.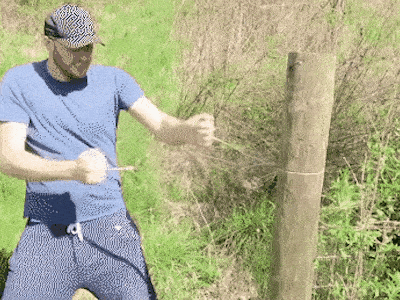 Features:
Lightweight and Portable: The compact folding chainsaw can be stored in a small bag. The bag can be worn on your belt for easy access or stowed away in your backpack with your other survival gear.
Flexible Hand Saw: This ultralight portable chain saw can be used to cut firewood when being out camping or hiking. It can also be stored under the saddle of your snowmobile or next to your car´s spare tire, you never know when you will come across a fallen tree over the path.
High-quality Steel: Made out of high-quality 65Mn carbon steel, the best material of saws, with super strong durable nylon straps makes it last longer.
Double Cutting Teeth: This provide effective and effortless cutting in both directions, making faster and efficient cutting.
Specification:
Chainsaw material: 65 Mn steel
Handle material: Super strong ballistic nylon strap
Handle color: Orange
Number of saw teeth: 33
Chain saw length: 103 cm / 40.6 inch
Sawtooth length: 63 cm / 24.8 inch