Measure the corner near the ceiling. Note the Miter Cut value from the dial (inner scale).
Determine the spring angle (information available where you purchase your crown molding stock).
Refer to the compound cut conversion table (see back). MM Locate the row with the same "Miter Cut" value as your corner measurement.
Note the "Miter Angle" and "Bevel Angle" from the row that corresponds to the spring angle of your work piece stock (38°or 45°).
Refer to the table below and carefully set the miter angle and bevel angle on your compound miter saw, then position your work piece with reference to the blade and fence, as indicated. Then, cut your first work piece.
Reset the saw and position your second work piece as indicated by the table below. Then, cut your second workpiece.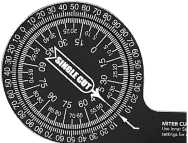 The two work pieces should align perfectly for you crown molding.
Settings and Layout to Cut Crown Molding with a Compound Miter Saw
Inside Corner
| | |
| --- | --- |
| Left Piece | Right Piece |
| Miter Swing: Right | Miter Swing: Left |
| Bevel Swing: Left | Bevel Swing: Left |
| Work Piece Location: Left of Blade | Work Piece Location: Left of Blade |
| Molding Edge Against Fence: Top | Molding Edge Against Fence: Bottom |
Outside Corner
| | |
| --- | --- |
| Left Piece | Right Piece |
| Miter Swing: Left | Miter Swing: Right |
| Bevel Swing: Right | Bevel Swing: Right |
| Work Piece Location: Right of Blade | Work Piece Location: Right of Blade |
| Molding Edge Against Fence: Bottom | Molding Edge Against Fence: Top |
Compound Gut Conversion Table
Miter Cut

38°Crown Miter I Bevel Angle Angle

45°Crown Miter I Bevel Angle Angle

Miter Cut

38°Crown Miter I Bevel Angle Angle

45°Crown Miter I Bevel Angle Angle

1

0.6

0.8

0.7

0.7

31

20.3

23.9

23.0

21.4

2

1.2

1.6

1.4

1.4

32

21.0

24.7

23.8

22.0

3

1.9

2.4

2.1

2.1 33

21.8

25.4

24.7

22.7

4

2.5

3.2

2.8

2.8

34

22.6

26.2

25.5

23.3

5

3.1

3.9

3.5

3.5 35

23.3

26.9

26.3

23.9

6

3.7

4.7

4.3

4.2

36

24.1

27.6

27.2

24.6

7

4.3

5.5

5.0

4.9 37

24.9

28.3

28.1

25.2

8

5.0

6.3

5.7

5.7

38

25.7

29.0

28.9

25.8

9

5.6

7.1

6.4

6.4 39

26.5

29.7

29.8

26.4

10

6.2

7.9

7.1

7.1

40

27.3

30.4

30.7

27.0

11

6.8

8.7

7.8

7.8 41

28.2

31.1

31.6

27.6

12

7.5

9.4

8.6

8.5

42

29.0

31.8

32.5

28.2

13

8.1

10.2

9.3

9.2 43

29.9

32.5

33.4

28.8

14

8.7

11.0

10.0

9.9

44

30.7

33.2

34.3

29.4

15

9.4

11.8

10.7

10.6 45

31.8

33.9

35.3

30.0

16

10.0

12.5

11.5

11.2

46

32.5

34.5

36.2

30.6

17

10.7

13.3

12.2

11.9 47

33.4

35.2

37.2

31.1

18

11.3

14.1

12.9

12.6

48

34.4

35.9

38.1

31.7

19

12.0

14.9

13.7

13.3 49

35.3

36.5

39.1

32.3

20

12.6

15.6

14.4

14.0

50

36.3

37.1

40.1

32.8

21

13.3

16.4

15.2

14.7 51

37.2

37.8

41.1

33.3

22

14.0

17.2

15.9

15.4

52

38.2

38.4

42.2

33.9

23

14.7

17.9

16.7

16.0 53

39.3

39.0

43.2

34.4

24

15.3

18.7

17.5

16.7

54

40.3

39.6

44.2

34.9

25

16.0

19.5

18.3

17.4 55

41.3

40.2

45.3

35.4

26

16.7

20.2

19.0

18.1

56

42.4

40.8

46.4

35.9

27

17.4

21.0

19.8

18.7 57

43.5

41.4

47.4

36.4

28

18.1

21.7

20.6

19.4

58

44.6

41.9

48.5

36.8

29

18.8

22.5

21.4

20.1 59

45.7

42.5

49.6

37.3

30

19.6

23.2

22.2

20.7

60

46.8

43.0

50.8

37.8