Measuring tools a very underrated thing but absolutely essential. Not all measuring tools are made equally. A Miter Saw Protractor is a great tool for all trim and angle work.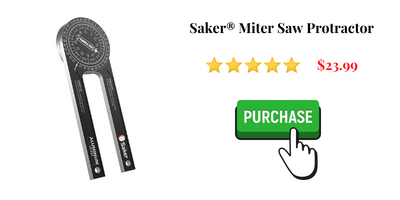 What is Miter Saw Protractor?
A mitre saw protractor is a measuring device that uses two rotatable arms to measure angles. The rotatable arms are attached to a two scale protractor that provides the angles measured. The scales found on a mitre saw protractor are a single cut scale and a mitre cut scale
The Best Miter Saw Protractor Brands
The best miter saw protractor brands have starrett miter saw protractor and Saker miter saw protractor. Today, we're looking at the Saker aluminium miter saw protractor.
Saker miter saw protractor has been specifically designed for use with a miter saw so you can set that at the perfect angle using the inner or outer dials. There's great big conversion charts so you can cut the left hand bevel on the right hand bevel to get an absolutely perfect fit on all.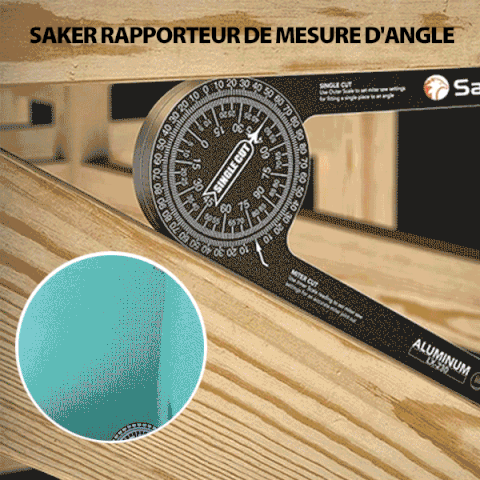 Saker Miter Saw Protractor helps you set your miter saw cuts precisely and accurately. This helpful angle finder tool helps craftsmen and woodworkers alike by providing accurate readouts for crown molding, trim work, and a variety of other carpentry applications.
The precision CNC-machined aluminum alloy body combines with the laser-etched easy-to-read scales for maximum durability and accuracy during operation. Use the outer scale for taking single cut measurements and the inner scale for miter cut measurements. It's about time you knew your angles with Saker Miter Saw Protractor. Remember when you could transfer readings directly to your miter saw? Remember Saker.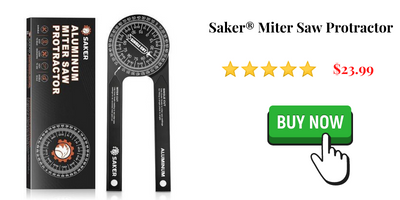 "Easily the best one on the market. Laser etched. Solid aluminum throughout and dead accurate. Also included in the box is a manual that includes a crown chart if cutting on the flat (similar to Joe Fusco's chart on This Is Carpentry) which is a nice touch. Clearly thought went into this product by people who know what they're doing and who they are selling to."
"What an exceptional product! I purchased the Saker angle finder prior to a trim job that had many compound miters. For years I have used the flimsy yellow plastic angle finder that many own but this sleek, heavy aluminum Saker angle finder rocked my world. It feels so solid in your hand. Every time I reached for it I heard the Lion King theme song when Simba is being raised in the air. Not really but I was a bit giddy. It's an amazing, quality tool and I feel lucky to have discovered it. Why anyone would ever purchase a plastic angle finder of any make or model when this aluminum one is available at this price and quality is beyond me. The measurements are crisp and easy to read. My only concern is that the numbers might rub off over time if I let it rattle around in my tool belt. For now I keep it in my tool belt pocket stored in its original box (with the top flap torn off). I plan to look for a protective sleeve of some kind just so it stays nice and readable. That would be my only suggestion to Saker...to include a protective sleeve with this hefty tool. Overall, it's a winner."
"This Saker miter saw protractor is great. Used it the first day. Allows for that 1/2 degree precision with any decent saw. Like all precise angle and trim work be sure you know your saw wall before you complain about this tool being inaccurate because it's not. Its stiff enough to maintain smooth operation and maintain its point while holding it. My 2 minor complaints would be to offer a larger size option and to have a carry bag or case to keep it safe in any tool bag. I would purchase again and recommend."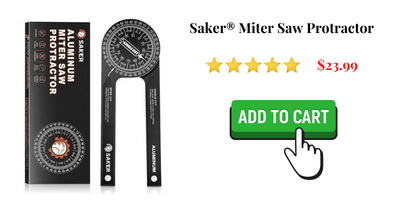 "Saker has outstanding customer support. I wanted a tool that would work well and last forever so i was on the search for a metal protractor. The one review on here saying it wasnt really laser engraved had me a little worried. Customer service answered quickly and confirmed it is indeed laser engraved.
I got it today and it is. So is the serial number on the back. This will truly last a life time i believe. Comes with a handy instruction manual for cutting crown molding flat as well."
"I bought one Saker miter saw protractor for doing the baseboards in my home. Most of my angles were standard, but I had 9 odd angles that were quite obtuse. I didn't want to mess with a digital tool, didn't want a cheap feeling plastic tool, and this solid Aluminium tool fit the bill perfectly. It's very accurate, makes miter adjustments easy, and helped me to breeze through the remaining cuts I had with confidence."