What is the best tool to cut bone? A regular large kitchen knife? No. If you are trying to use the normal knife to cut through bone or frozen meat, this process will be unsafe or even impossible. A bone saw blade will be the safest and the most time-effective way to cut bones and frozen meat.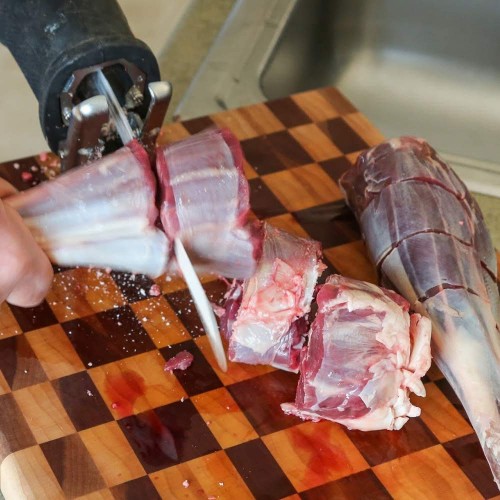 Reciprocating meat saw blade, as one kind of butcher saw blade can cut frozen meat with ease. If you get used to storing large amounts of meat in the refrigerator for later use, the meat cutting saws allow you to cut through frozen meat with bones. You can get right to work on processing your frozen meat straight out of the freezer without risking its freshness.
The Best Bone Saw Blade In the Market
There are many sawzall blades for bone in the market to help you cut frozen meat like bone ban saw, bone folding saw, bone handle saw. Nevertheless, it is the unpainted stainless steel reciprocating saw blade that has been the most popular bone saw blade in recent years, which can save you from a long and frustrating bone-cutting task.
Our stainless steel reciprocating saw blades set contains 5 pieces of the saw blade, 3 PCS 12" 3TPI, and 2 PCS 9" 5TPI, to meet your different needs of frozen meat and bone cutting.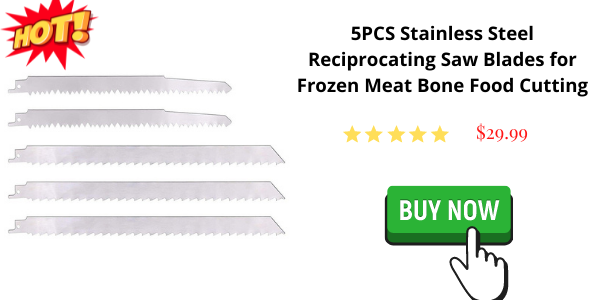 This meat blade for reciprocating saw adopted stainless steel with special materials, which makes it sturdy and durable. The 5TPI design reinforced teeth for faster and smoother bone cutting performance. It is very suitable for large-scale animal segmentation, cutting and other large-scale operations, which can save a lot of time and energy in the slaughter process.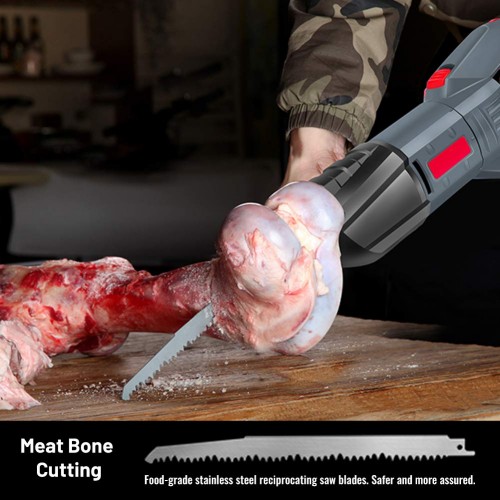 With the universal shank, this stainless steel Sawzall blade for cutting meat works with all major reciprocating saw brands such as DeWalt, Hitachi, Milwaukee, Makita, Ridgid, Porter & Cable, Skil, Ryobi, Black & Decker, Bosch and so on.
Bone Saw Blade Customer Reviews
"The blades are sharp, I used it to cut pork bones without any problem. The quality of steel is very good, so may last very long. The package has five blades and a useful plastic container. Good value."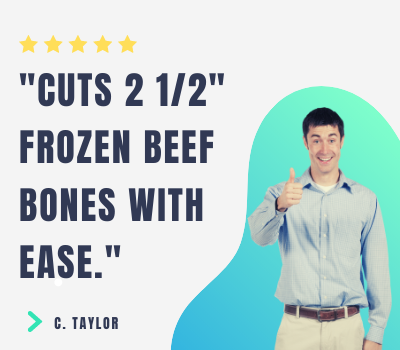 "I have processed three cows with these blades. Only used three so far. Will be used for pigs and deer as well. Absolutely amazed at how well they work."
"One cow and three pigs neatly sectioned in great part with these blades. Amazing for splitting hooves, down the spine, and most importantly for shank bones for Osso Bucco and stew meat. Would recommend these for any home butchers looking for blades."
"I use these blades for cutting meat from hunting as well as cutting store-bought meat to a smaller size when needed. I also have used them to cut frozen roasts in half without the need to thaw it first! Highly recommend it to anyone who does any of their own butcherings!"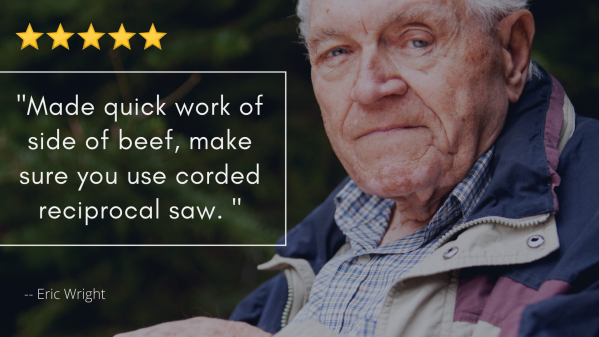 "Used for cutting a turkey in half, very easy to cut through."
"I wanted this item to cut frozen beef bones for the dogs. Worked perfectly. Easy cutting and easy cleaning."
"The boys used it to split a beef in half. Worked great. Very rigid and aggressive. I've only used it to separate a hind of beef."
"Very good. Used sawzall to cut frozen turkey in half with these blades. Ripped through like nobody's business, maybe a little aggressive for my situation but worked."
Conclusion
You now have the answer to "what saw to cut bones". With all the attributes, the stainless steel meat and bone cutting sawzall blade is definitely a worthwhile product for most people's needs, especially perfect for amateur butchers and hunters alike for cutting well through meat quickly.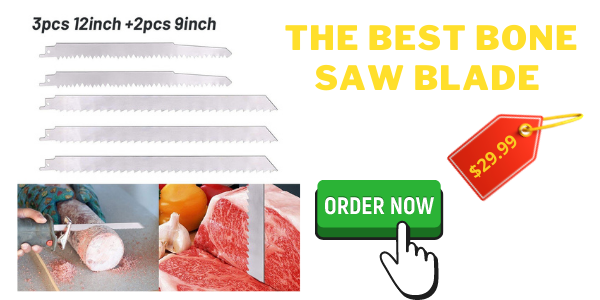 You should find a bone saw blade that's easy to cut and maintain, this stainless steel reciprocating saw blade for meat is a wonderful blade that stays in a like-new shape after multiple uses.
People Find This Blog By Searching: what sawzall blade to cut bone | meat saw blade for sawzall | what sawzall blade to cut bone | Sawzall blades for meat in the US | meat saw blades for sawzall | frozen meat saw | sawzall bone blade | sawzall meat blades | blade and bones review | best bone saw for hunting | bone saw blades | bone cutting saw.
Other Blogs: