What Is A Contour Gauge?
A contour gauge, aka a profile gauge, is a measuring tool which is used to record the cross-sectional shape of a surface. It is mainly used to record odd shapes. Normally, a contour gauge profile tool consists of a set of steel or plastic pins that are set tightly against one another in a frame. The frame keeps the pins in the same plane and parallel while allowing them to move independently, perpendicularly to the frame. The pins will conform to the object by pressing the profile gauge against the object. Then you can transfer the shape to another surface.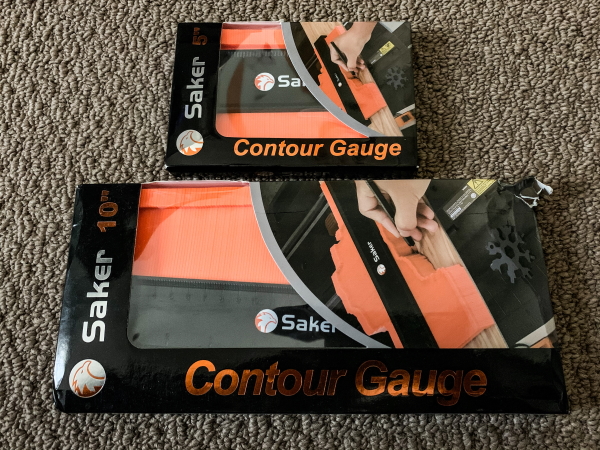 What Is A Contour Gauge Used For?
A shape contour gauge has many application scenarios like metalworking, woodworking and architectural conservation. For example, in architectural conversation, this odd shape measuring tool is used to document the profiles of decorative moldings. In a flooring project, the precision shape duplicator is typically used to record the profile of the door frame so that the person who lays the floor can cut the floorboards more precisely. Therefore, contour measuring gauge sometimes is also named for flooring profile gauge and laminate profile gauge.
Best Contour Measuring Tool
There are many contour measuring tool brands like varsk, saker, luter, etc. We investigated the market share and applause rate and finally recommend Saker contour gauge.
Saker Contour Gauge Profile Tool
Saker contour measuring tool is designed to accurately copy irregular shapes and make measuring and cutting easy. Its features include an adjustable lock to maintain the replicated shape. Saker contour duplication gauge is mainly designed for winding pipes, circular frames, ducts and many objects, Ideal for fitting tiles, laminate, carpet, checking dimensions, molding, etc. A useful tool for operations on car bodies, carpentry, and for all kinds of modeling.

Saker Measuring Device Features:
1. Adjustable And Locking Feature: Saker contour gauge can adjust the tightness according to your needs. After using the contour ruler for a period of time, you can easily adjust the tightness; Once an object has been contoured, lock contour gauge teeth in place for perfect traces every time.
2. Good Material And Portable: The contour gauge is made of high-quality ABS plastic, high strength, rustproof and durable.
3. Easy To Use: Saker contour gauge measures 5 inches & 10 inches, can be used to measure the shape of irregular objects, an instant template for marking precise tile cuts. You just press the contour gauge on one of the shapes. Trim outline and cut into shape.
4. Extensive Application: Contour gauge is used to locate profiles or edges and accurately transfer them to the material to be cut. For any kind of work needs contour duplication. In woodworking, auto body, auto metal sheet, stainless steel, or any job of contour duplication.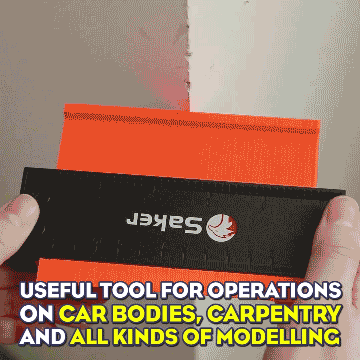 How To Use Saker Contour Gauge?
With Saker profiler, it is easy to mimic a profile that you need to cut around. It's a pretty straightforward tool so you are not going to worry about the instructions too much.
Step 1: Manually push a few of the pins directly near the ends of the thing you are trying to replicate.
Step 2: Lock Saker contour profile tool, and put the gadget on the paper.
Step 3: Trace the contour with a pencil. If you get a stair-step zig-zag pattern at first, you can smooth out the lines.
*Don't forget to mark the endpoints so you get the depth correct.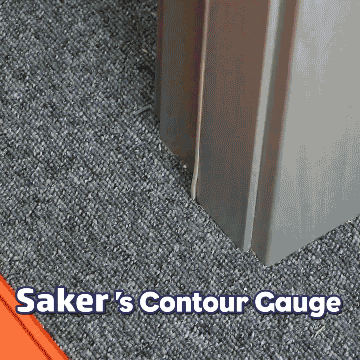 Saker Contour Gauge Options
Saker irregular contour gauge has 2 sizes, measuring 5 inches and 10 inches. If you need a laminate floor profile gauge, long contour gauges will be a better choice. As for a pipe profile gauge, the 5 inches laser contour gauge is enough.
If you need a tool to measure irregular shapes which has a long section, you can choose Saker contour gauge profile tool upgraded version, the connection contour gauge. Saker unlimited connection contour gauge profile tool can be disassembled unlimitedly so that you can measure the contours of items as long as you want.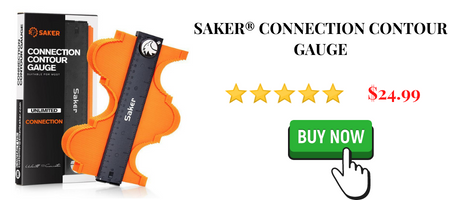 It also has a hot combination, called contour gauge with lock angle measuring ruler with opening locator. The multi-functional fold measuring ruler locks the angle ruler in shapes, patterns, and templates to copy the imprint and draw the perfect angle.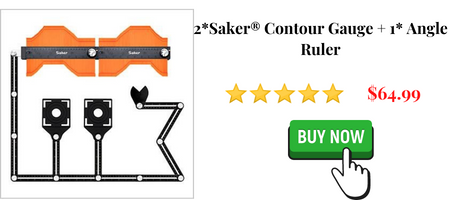 Saker Contour Gauge Reviews
In the past 3 years, the flexible contour gauge was sold 20,000+ each month. Thus, of course, they have also received tons of feedback. People use their contour gauge ruler in various scenarios, which can give you the reasons why you need a precise shape duplicator.
"I bought this for future DIY and art projects. Saw a video of one randomly online and it looked so cool I had to get one. My wife does lots of art and crafts and DIY and she loves tools. She and I installed vinyl plank flooring ourselves about a year ago, and one of these would have made things so much easier than making paper templates with tape."-- KRP

"I wish I had this when I was cutting some trim to run along with the baseboard trim, it would have saved me so much time. Easy to use, just press up against whatever you're trying to trace. "-- Albert Jones


"I bought this 10-inch contour gauge for my husband and he loves it! It works great and he will use it for our home improvement projects."-- Lori Lynn


"10 inches - Super big! Can do large sections at once without having

Easy locking tab - stays in place, doesn't budge much to make tracing easy

Orange - my favorite color"-- Bel

"The saker irregular shape duplicator worked pretty well for me. The lines are pretty jagged but I don't think that hurts your accuracy. Very handy to have for cutting tile around a toilet or any hard-shaped corner. Saves making a template. Goes right back into shape after use. Amazing invention."-- Blink

"I bought a Saker measuring contour tool for my son who is a carpenter, he finds this very useful and easy to use. It's staying in his toolbox."-- Walter
Who Sells Saker Contour Gauge
Bounth sells the best price Saker contour gauge with official authorization and a genuine product guarantee. They can process the orders and ship the product out within 49 hours. Due to the shipping from the USA, the shortest delivery time only needs 2 days. Of course, it depends on the state where the customers live in. But any questions, you can contact the customer support team via customer@bounth.com, Bounth offers 24/7 customer service.
Other Blogs: